Qute health care system.
We are developing " Health Care System "  handling vital data.
blood-pressure, bodily weight and composition scale,  Pedometer and Activity monitor and more.
– Server software
– Windows Application Software
– Androis/iOS Application software
[ DCAP] Disaster

Ca

rdiovascular

P

revention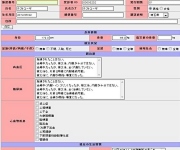 DCAP is Remote Monitoring Platform for Disaster Recovery.
We have developed all of the parts of the PC software and server software.
Please see the following Link for productn detail.
– FOUR YEAR DATA CONFIRMS VALUE OF CONTINUA CERTIFIED DEVICES TO FACILITATE POSITIVE CARDIAC OUTCOMES IN DISASTER RECOVERY(PCHAlliance)
– Telemedicine as a Tool in Japan Disaster Relief (ITU)
This development is a volunteer project.
However, DCAP technology continues to improve, and it is used for speedy and efficient development.
[ Health Care Kit] Windows application

We have customized for use at home.
Healh Care Kit (Download from Vector)
(This software is out of warranty)
[ Other ]
"Qute Health Care System"  technology enables speedy and efficient software development.
– transportation business : Health and Safety management of employee
– Internet application for mass consumption
– Remote medical system
– Demonstration experiment at hospitals and universities
[ customize ]
Qute has a customized development for a variety of applications.
If you want to customize this system, Please use contact form for inquiries.
Personal Connected Health, remotely monitor the blood pressure, remotely monitor the Vital data